2022-Sep-20
As our senior loved ones continue to age, health and mobility issues may obstruct their ability to properly shower, dress, bend, reach a kitchen cabinet, and other simple tasks. These limitations can frustrate them, and most times adversely affect their mood and emotional state.
The terms 'senior home care services' or 'home care services for the elderly' are words very commonly used in western counterparts, but the trend is catching up here in India. If you are amongst those who have parents or grandparents living at home or in a separate residence, you might want to consider equipping them with certain gadgets, devices, appliances, and support aids that can help them do their daily tasks independently. 
Here is a quick look at some varied products; respective to the top three segments; that are designed to make lives easier for the elderly and those who require additional assistance on an everyday basis. 
● Bathroom and Toilet Essentials 
The bathroom is an area where every individual likes to have their own space, peace of mind and independence. Seniors, physically disabled people, and individuals with mobility issues need a bit of extra support when it comes to answering nature's call or taking a nice, warm shower. It could just be a case of needing something to hold onto while getting up or being uncomfortable using a traditional Indian toilet because of knee problems. In such cases, there is a wide range of bathroom and toilet support products that serve the purpose and allow seniors to continue doing their daily routines in a hassle-free manner. 
● Bedroom Essentials 
 
The bedroom is a very private space for any individual. While bedrooms are primarily meant for sleeping, you might notice that senior citizens tend to spend more time in the bedroom rather than a living room as compared to younger people. It is essential that this bedroom space is well organized and equipped with must-have furniture and accessories like beds for senior citizens, backrests, etc. People with mobility issues (due to old age, injury, or disability) find it extremely difficult to get up and sit upright without support. Some might need protection to avoid rolling off the bed in their sleep. There is a variety of bedroom accessories and support products that can help keep them stay comfortable, cosy, and safe. 
● Mobility Support  
 
From walkers to rollators and from canes to wheelchairs, the options available are plenty, but the kind of mobility aid that a specific individual should use would depend on numerous factors. For instance, the needs of a person with a lower-body disability would be different from someone who just needs a little bit of support while walking. Whichever is the case, it is important to understand that individual mobility is vital to make an individual feel independent and the mobility support equipment allows you to empower to move around with ease.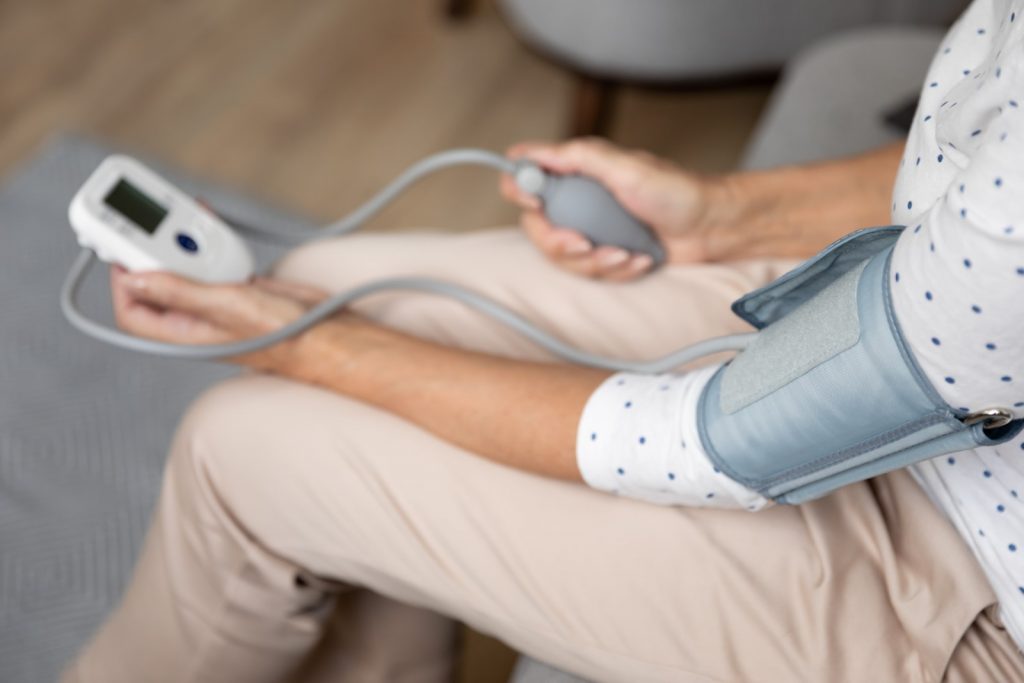 A variety of personal care items are also available to help them continue their daily routines, maintain independence, and lift their spirits. Here are some personal care gadgets for prevention and support that can help seniors accomplish simple tasks and make their lives a bit easier in the process: 
1. Oximeters: Respiratory problems, like other medical conditions, require exceptional care and often a wide range of medical devices. Oximeter assists in measuring the proportion of oxygenated haemoglobin in the blood. Given it is a non-invasive equipment, it is pain-free and easy to use for seniors. Having preventive equipment like oximeter handy and using it regularly helps in safeguarding from future mishaps 
2. Steamers and Nebulizers: Another set of respiratory products which should be available in the house are Steamers and Nebulizers. Again, a non-invasive set of equipment that help with basic respiratory issues. It also helps seniors who face trouble with breathing and relives discomfort from congestion.  
3. Grab Bars and Anti-Slip Tapes: As one ages, they become more prone to falls. Bathroom accessories like grab bars and anti-slip tapes are known for their functionality and aid seniors with mobility issues. 
4. Toileting aid with tissue grip: Specialized aids; including a toilet tissue grip and long handles; assist seniors with limited mobility to safely maintain bathroom privacy and independence. 
5. Handles and standing aids: Placing handles and standing aids around the home; example - in the shower, near the toilet, at the bedside, on the stairs, and near a favourite chair; will assist your older loved ones as they go about their daily activities. These devices can improve mobility and reduce the risk of fall. 
6. Pill organizers: Weekly pill organizers can help seniors safely manage multiple prescriptions and supplements. Some pill organizers come with separate compartments for morning, mid-day, and night-time to alert them to take the correct medication at the appropriate time. 
These personal care items are handy and can help seniors preserve their independence. When you have a senior citizen (or more) at home, it becomes imperative that you make an extra effort to ensure that their daily needs are taken care of. With aging comes a natural decline in physical and mental abilities, so it is essential that senior citizens feel at ease and at home. 
Aimed at aiding the recovery and well-being of your loved ones, Antara offers a comprehensive range of medical products and equipment readily available on rent and/or for sale. 
 
Antara's range of medical care products and equipment bridges the gap to provide the highest level of care a patient requires. The MedCare products portfolio is a comprehensive offering of clinical-preferred and physician-recommended high quality reliable items.  
Remember, home care services for the elderly are not restricted to hiring a nurse or full-time help to assist them. Certain products and accessories can well and truly enable them to do mundane tasks with utmost ease and peace of mind. There is a vast collection of senior aides and home care products apart from the bathroom essentials, bed supports, and walking supports for the elderly mentioned above.  
Browse through our selection of senior-friendly products here and take your pick. For consultation, support, or bookings, reach out at +91-9811441111